Vibration Analyzer DA2
Incremental inputs over time are the base signals for measurement and evaluation of torsional vibrations and static torsion.
Torsional vibration (angular displacement) is measured in the range of 5-100'000 rpm using a wide range of pickup types:
Incremental encoders, inductive pickups, optical or laser pickups.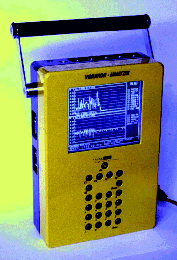 Analog Analyzer AA8
Any analog signals in the range of ±10V are captured synchronous using up to eight (sixteen serial connection of two AA8) input channels.
The signals are sampled at the same time with a resolution of 16 bits (0.3 mV, 97 dB typical dynamic range). The sample rate is up to 48 kHz per channel regardless of the number of channels used. Combined digital and analog anti aliasing filters give a high quality phase reproduction.